Republican took the lowest of low roads
in This Special Election Of R-Handel VS.
(It's just LePenn!)
D-Jon Ossoff. They know They always'll
lose with high turnout. If Turnout is low
nail bitter time. More $ has been jacked
into this race on Both Sides. More so on
Republican Handel's Side got Super Pac
$. Ossoff, 'Got' Around 22 Million & She
got $27 Million From NRCC & CLF Along
with other Outside groups. Your job's to
go VOTE! It All Comes Down to you and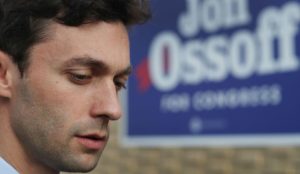 (VOTE TODAY!)
it always will, vote for the future and not
the past and Trump loving Handel. VOTE
"Captain Bullshitter" Spicer Gone…
In Recent Press Conferences Spicer Was
demanding no cameras or audio devices
(Doh!)
for all upcoming briefings. WTF!?!?!?!?!?
Our Constitution insures us a Free Press
And now, he Is Gone. He will be looking
for his Own replacement. Which is sorta
like trying to Find Someone else to sit in
a hot habitual lying electric chair. Ooops
This isn't an Executive Branch, it's a nut
house of jackals spewing lies and simply
violating law, after law, after law. This is
(Member this?!?)
'Unacceptable Unlawful Lunacy'. And, This
will get worse by the day. You can book it
NOTE : Jeff Sessions, & 'Everyone' In This
"Lawless, Lunatic, Shit Show White House"
Is Lawyering Up. Oooooooooooooooooops!
This Gets So "Bad" That Their Lawyers Are
Getting Their Own Lawyers. Ha, Ha Ha Ha!
NOTE II: So, Sean Hannity Admits That He
"Lied" For 8 Years About 'Birther BS' While
Then Claimed The Russian Probe Was Fake
The Old, "I Lied But Not Lying Now" Game?
Have a day!