Jim Comey has A Memo and that piece
of Paper, Along With All His Testimony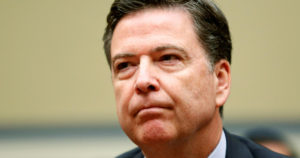 ("You're fucked!")
Under Oath, Will 'Likely' Take Trumpers
Down For Good. If it is All Confirmed &
it Appears to Be Right Now, it is time to
Talk "impeachment". He's fucked, toast
And Most Importantly, STILL Continue
the Admins Russian Ties Investigations
then you add Treason to The list. Where
Are Republican leaders?!? Hiding From
the Press/Media because they're simply
terrified & unable to answer all these ?'s
(We know)
Only 2 have attempted to come forward
with Angus King (You Can't make these
names up, was Beef Royalty taken?!?!?)
and McCain saying This is a "Watergate
in size & scale" but even worse. And the
Democrats are Simply calling for all the
facts. If true, It's so Impeachment Time
And What is Lying Paul Ryan saying?!?!
Trying, To Even Protect Trump By Lying
saying "It is so Obvious there are Some
(Coming Soon!)
people out there who want to Harm the
President". No, This, Is Obstruction Of
Justice And Likely "Treason". The only
harming here is being done by Trumpy
And then the Fucking evil villain out of
some horror book tried to sell Tax cuts
You Read That Correctly! This vile POS
tied his lying Asshole wagon to Trumpy
and deserves Everything coming at him
NOTE: A 3rd Confederate Statue Comes
Down In New Orleans. The Government
Doesn't Need, To Spend $ 4 Treasonous
Racist Statues Tryin' To Rebrand Racism
Have a day!