If you are a Republican today shit
isn't Going Well. That is An Under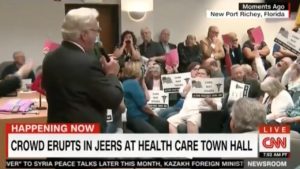 (Bill Akins lies)
statement. Remember all The Tea
Party Anger, Screaming Irrational
lies Plied By FOX And The Top 1%
Plutocrats Of Death Panels, ETC?!
Well they Were Mad as Hell & Not
gonna take it!!!! They just did not
know what "it" was. It Was Anger
& "Hot Air" Manufactured By FOX
and all those top Republicans like
"Bitch McConnell" screaming "We
(We Remember)
will Obstruct EVERYTHING!". So,
now We Have A POTUS "Actually"
DOING the shit They Were, at the
time, supposedly worried about &
now?!?! Not a fucking PEEP. Well
guess what, voters are all peepin'
now. A Lying Republican Tried to
bring up Death Panels again. That
didn't go well. And Jason Chaffetz
was "Boooooo'ed" For Bullshitting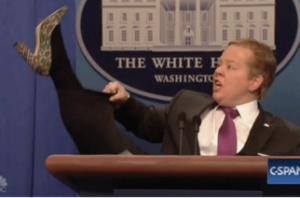 (Get To Steppin)
badly. Their responses?!? "Alright
settle down children". Ooooooooo
this is not going to go well. VOTE!
Only happens if ya vote every year
Betsey DeVois "Trouble"
What if I told you the Secretary of
Education misspelled the name of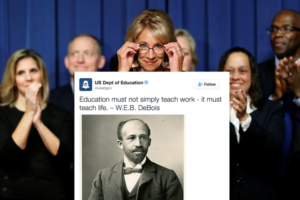 (Holy shit!)
a prominent Civil Rights Leader &
then when Called Out for that also
misspelled their apology?!?! Ralph
Wiggum's now our SOE. Miss D is
now Miss Spellings. It's not that it
was misspelled people. It's that if
you are not qualified for a job shit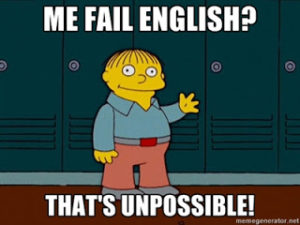 (Ahhh Ralph!)
has a way of showin' we were NOT
qualified For Said Job. A Bad Start
NOTE : My Mother, Joan Elizabeth
Bolger "Passed Away" At 2am This
Morning. She Was A Good Woman
And Although So Very Sad; All Her
Suffering Is Over. She'll Be Missed
NOTE II : Germany Picks, A Social
Democrat To Lead Them. WOW!!!!
They're More Democratic, Than Us
So LET, THAT, SINK IN Right NOW
Have a day!