With an "occupied" war in Mexico
Yes, you Read it Correctly. It has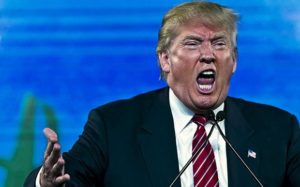 (Insane Douche)
only been coming up on TWO yes
TWO weeks since the fascist child
has taken Office. Yet, his lunacy's
at a fever pitch right now. The big
Tangerine toddler just threatened
Mexico our ally with invasion just
based on his own biased incorrect
views (That Do not reflect reality)
with US troops. He said on A Call
that He would Send US Troops in
(And Liars)
to Mexico to Take out all the "Bad
Hombres" Unless all The Mexican
Military begins to "Control" Them
itself. It Horrifically loony for him
to threaten Chicago, a Us city the
other day now he's Openly pitchin
"War" with Mexico and Iran. Next
it will be  China, North Korea and
maybe Australia?!?!?! At this rate
all your Republicans Best sign Lil
(Tiny hands, tiny IQ)
Johnny Up 4 a War Meat Grinder
wars Trump/Bannon are Seeking
Holy Fuck Balls. This Is Not Even
week TWO! He likely will not ever
see March at This batshitnut Rate
NOTE: "Republican", Murkowski
Puts Country & Reality Over ANY
Silly Partisan Bully Tactics. Bravo
And She's Not Scared Of Trump's
Tweets. Bring It On Orange Anus
NOTE II:So Republicans Are Now
Reapin' The Obstructionism They
Showed For 8 Full Years; Ha Ha!!
And, Appointing An EPA Head, In
W/O Quorum'll..Be Remembered
UPDATE : If You Are An LBGT'er
And Voted Trump, You, Got HAD
They're Looking At Ending Rights
How Many Executive Orders?!?!?
Have a day!