In the Night. He has ushered in hate
He has 'Ushered' in, W. Bush's Fiscal
(None for you!)
policies of "Tax Cuts" & deregulation
We already has this Before with such
horrific Consequences (see 2007-08)
The Rural white Americans Thinking
Trump will help them were Suckered
And they ripped off their legs to spite
their face. They think they won. They
Simply set the Stage for Disaster like
Brexit Did. They don't get Economics
or grasp the simplest concepts that if
(<-Stupid City!)
you hand out taxcuts to the top 1% it
dismantles the government, ruins the
wage gap, causes slavelabor & makes
the already horrific wealth gap Widen
HINT: They're not even in the "haves"
class; they're in the Dumb as fuck one
They keep fucking up everything, and
Democrats get in office to fix it. Well?
I say next time, I'll be in Scotland and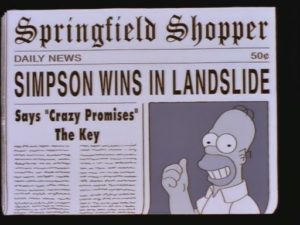 (No Shit!)
you hateful racists Fix It yourself. Bet
you don't because you Fucking CAN'T
NOTE: Democrats, Don't "Get It" And
Re-Elect Pelosi As Minority Speaker &
Proves They'll Never Move Progressive
NOTE II : Dear Racist Asshole Trumpy
Voters. You're Ova Honestly, Every Bit
Of Ya Loud Racist Pile Of Shit Nothin's
Shine A Light On Them All. She's Nuts
And Was Fired From Her HR Job. Yes!
Have a day!