Trump Settled The law Suit of his
"Scam University". To the tune of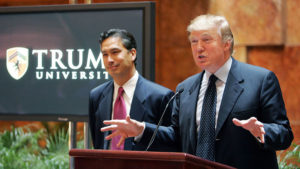 (<-"Busted!")
$25 million. And, he "said" he got
off cheap. And he is Right. Trump
claiming to, "Drain the swamp" is
lie #5 of around 7 million Coming
If you are a Trump voter get used
to disappointment. The world can
hopefully bounceback from any of
his many upcomin' poor decisions
BUT, the one Area that is not Ever
acceptable, is the Steve Bannon &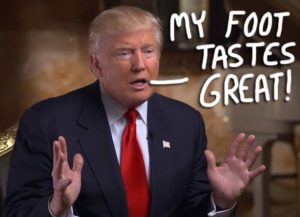 (It's Fantastic!)
Alt Right/Racist faction. Never, no
never will Americans stop fighting
There are "Certain" Things like our
Constitution Allowing Each Citizen
equal protection under law. BUZZ!
It's a non-starter. Not now or ever
NOTE: 'Racist Trump Supporter' Is
Disruptive At Show & Escorted Out
Ah Yes, Pay $100 Ticket Then Fuck
It All Up Losin' The $. Trump Voter
Oh And He Was Arrested So Paying
Even More $ In A Fine. Ha Ha Ha!!
Have a day!