In what can just be called the most
partisan "Head Fake" In All Modern
 
political science……..FBI Republican
James Comey, just said, "OH, Yeah
it's the Same Conclusion As July, &
Sorry About, Toothless Speculation"
This, Is, "Unprecedented", Electoral
interference. It has never happened
In The Grand Scheme of things that
Never, Changed Voters Minds, ONE
bit. The Trump Grabbers are Voting
For Him, No Matter What. They Are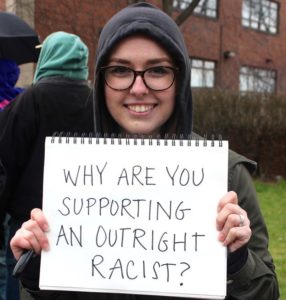 (They're racist 2?)
Not "Critical Thinkers". The Hillary
Supporters Were Backing HER, No
matter What with Trump as the big
"Other" Option. The Problem, then
becomes Who has more Voters and
can turn them Out?!? That is pretty
much THE Question. Clinton Has a
voter Turn Out Operation, Drumpf
Does Not. They All Have Statistical
Polling, and Demographic Realities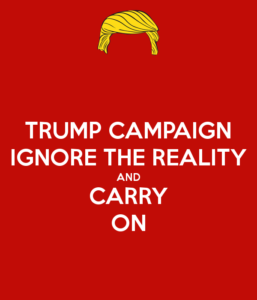 (We know)
At their Finger Tips. Drumpf, Stiffs
Em. They Have "Souls to The Polls"
To Turn out. Drumpf does not. But
if Trump is Hanging His Toupee on
the "shy Trump" voter he lacks the
Very 'Understanding' Of His Entire
Appeal. They Are NOT 'Shy'. They,
are so Loud, brash, Racist, Hateful
Rural White Nationalists. I do not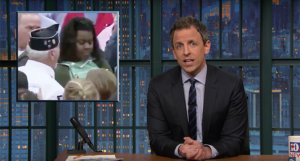 (Racist Trumpers)
Know, About "YOUR" 'Experiences'
with them, but "Shy" is not a word
I would use. And, intelligent is not
another one I'd ever use. All those
facts, polling or stats mean nothin'
if you do not VOTE, VOTE, VOTE!!!
Election Tomorrow…Finally!
This has Been One of the most sad,
disgusting, bizarre, hateful & racist

(We know)
presidential campaigns I have ever
witnessed in modern history and it
is finally OVER tomorrow. VOTE!!!!
If You Don't Vote, you Help Trump
The Electoral Map Math is crushin'
Trump. He Would have to Win out
and THEN pick off 2-3 more states
that are not remotely in Play. Why
does the Media Want You to Think
it's a razor thin Election?! Why Ad
revenue. If they all say she Won it
what do they air between now and
tomorrow?!? I say puppies playing
with Each Other. We Could all use
that Therapy for starters. All those
Trumpy Republicans……enjoy your
Day Tomorrow. You, Earned it ALL
NOTE: Hillary Puts Out, One Final
"Pitch" To American Voters And Is
Positive. I HATE Political Ads, But,
This Was Humanizing Her So Well
It Won't 'Sway' Trumpers, But For
Anyone On The Fence(Don't Know
How That's Possible) It Does Work
Have a day!