Holy shit, the Chicago Cubs Are
World Champions!! We Knew It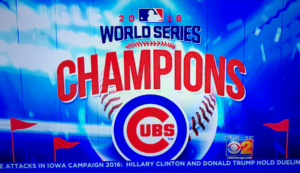 (Boom!)
was possible, but they took it all
down to the Wire in the 10th. It
was "Wild". As a life Time White
Sox fan gotta give it up to them
They did it right and ALL of this
Great City, Chicago, is so Proud
That's why our Best Part of This
Season was Playing you Guys in
The Cross Town Classic. We did
Win, and That Was OUR Season
(Dogpile!)
My Brother Daniel is one happy
man today; as is ALL of Chicago
Indeed Goodman, Go Cubs Go!!
And welcome to the club fellas!!
The Face Of Pure Evil
In Iowa a Hateful racist murder
killed two police officers in cold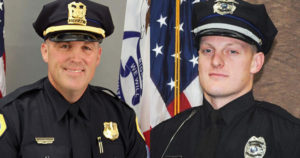 (<-Murdered)
blood. He has had Runs in with
the law. Most Notably at a Foot
Ball game holdin a Confederate
Flag up during the our National
Anthem. He claimed the blacks
"Took his property". No, he was
a Racist Pile Of Shit inciting the
fans. Oh, and get This. He & his
mom had a Trump sign outside
(<-Pure evil!)
And he Had A Past of Shouting
the N-word to A Stranger while
threatening to kill him. WTF!?!
Not All Trumps Supporters Are
Racist. That is a logic fallacy, &
lazy uncritical thinking. BUT all
Trump voters "Support" racism
They Condone it, they Own it &
they accept it/tolerate it. Which
means, I'm sorry but you are in
with the most Hateful racist big
(Executed them)
crowd. If they don't Wish To Be
thought of this way, Out All the
Racist Forces. But, they will not
because deepdown then there'd
be no "Movement" At All. Think
about that. So, Trump Marches
on spewin' he's so sad bout the
cops; to the People who's Views
just "Killed" them. It is far past
disgustin' shit. My Heart breaks
(We know!)
The shooter should be jailed for
life. And, one less Trump Voter
This Election Showed a Hateful
side of Us hidden far from view
Now it has Trumps face forever
And more sunlight's the answer
NOTE: Keep Calm And Vote On
The Numbers Don't Lie From A
"Historical Reality" For Clinton
Means Nothing Without Voting
NOTE: Comey Is "Now" Pourin'
Over 650,00 E-Mail's, And See
What Is In There. Right Now It
Is Nothing But Will Follow This
Have a day!