And this shocks……….no one at all!
The official news paper of the KKK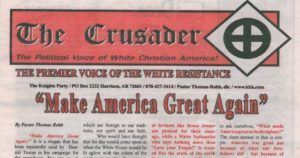 (<-Racist Hate)
which seems odd, since racist can't
fucking read, The Crusader, simply
loves him for President. But, oh no
His Campaign, Ideas, Policies, And
Words; Are Not Racist  (Rolls Eyes)
Our Entire Country, Has Already all
been "SHOWN" This, By Trump Him
self at every fucking turn. The polls
show the entire Country rejects this
which is a great Thing. However we
(Derp!)
must ask, the Republicans all stood
together With Very Very Very Scant
few who Opposed: Graham, Kasich,
Powell, Barbara Bush, W Bush, and
about 55 more; that's it. So, others
are Happily Voting For Trump. That
is what is Called a Big disqualifying
vote to hold any High Office. Losers
Shit, Paul Ryan, Speaker of The Big
House already voted for Trump and
(<-Fraud!)
in 'snake fashion' said he voted for
the Party Nominee. NO! You Voted
For Donald J. Trump & All That HE
stands for you little lying Bitch Toy
What Trump exposed was the Dark
Roots Of Racism That Their Modern
Republican party was built upon for
all to see. And, the Vast majority of
Americans have seen it far too long
It only happens If You VOTE VOTE!
NOTE: Nothing Still On Comey And
No New "News" Yet. When Given It
Will Be "Covered" In Full Detail But
It Is Likely Nothing Will Come Of It
Since We've Had Over '20 Hearings'
NOTE II: The Cubs Force A Game 7
Look Out World, If They Win Tonite
The World Series Is Theirs Destiny?
UPDATE: And Now, The Racist Acts
From Trumps 'Hate' Begin. THIS Is
Unacceptable & Won't Be Tolerated
Have a day!