History has been Made Again at the
DNC. So, after Obama it's a Woman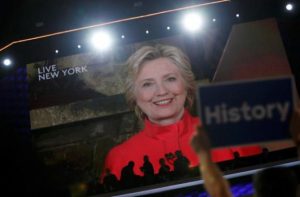 (<-Robot Voice: "Accepted!")
Hillary is the DNC nominee. And all
the Sanders supporters don't Like it
at all. They feel slighted, and Were!
What was Hillary's Reaction?!?! Not
good. But it will Get Better. She will
offer Progressives Policies That They
will all like. However, All The People
shouting, "Bernie Or Bust" just don't
grasp Electoral Map realities. If they
(Explaining It)
vote Jill Stein they hand the Election
to Trump. It's honestly their Votes &
they simply Gotta "Grasp" that stark
reality of the choices. It would be the
Gore Vs W Bush 2000, all over Again
And I forget how did that turn out?!?
Ralph Nader ring a bell?! It would be
that but far more 'Damaging'. They'll
have a unified "Party" Tonight & also
("I speak pretty words")
tomorrow. But Hillary 'Best' Appease
Sanders Voters & Fast. They all have
more In Common Than ANY Policy of
Trumps. Period. Make That Resonate!
NOTE: Trumpy 'Leads' The National
Election "Polling", Right Now, By +2
This Is The Convention Bounce They
All Get; Hillary Will Get A Bounce As
Well. But Be Very Warned. This Is So
Serious. If Her Campaign Staff Stays
The Course, She's So, In BIG Trouble
I Think, It Will 'change' After The 1st
Debate You Just Watch, It All Happen
NOTE II: Sox Won Again. Huge Win!!
The Cup Stays On The South Side!!!!
Have a day!