The Republican Convention, is Underway
this entire Week In Cleveland. Which just
(Likely They Will)
means: Prepare for the Most Insane "Shit
Show" on Earth. Open Carrying, big Loud
racists chantin' "USA" "Build the wall!" or
"All lives matter" It's like A Heart Disease
Diabetes II amputee fat Nuremberg Rally
Imagine, if you have a bunch of big racist
rednecks walkin' into A Chili's after about
15 beers, armed to the teeth & looking to
find minorities to verbally or even actually
terrorize. This will be the shit show to end
(They'd die for it)
all Shit Shows. OR it will be the last FART
of a Dying, Hateful old party long overdue
You know Shit is Rough, when Tim Tebow
tells you "Gotta pass. You people are Just
utterly fucking racist idiots!". That's like a
career D+ Student lookin' down on you as
somebody to "Avoid" Being Around Today
BUT, the UFC President Will Speak. Ha!!!!
Good News: You will be 'Tuning' in, & just
drinking heavily to deal With This Insanity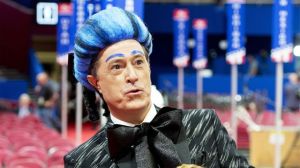 (The Shudder Games)
It will be Like 'Binge Watching' THE worst
shit you have ever seen in your entire life
Bad News: It might also end up in horrific
violence or horror stories all about racism
I'm hoping for, the Good News Part above
NOTE: Horror In Baton Rouge, LA. Again
This Time It Was An 'Insane Racially' Evil
Asshole Randomly 'Killing Cops' Again. IT
Can, Not, Stand!! Peaceful Protest Only &
Only That Always. There's No Acceptance
About Anyone Taking Anyone's Life. Bad!
NOTE II: TexASS Governor, Tries To Ban
Abortion By Placing 'Lunatic Demands' Of
"Burying" The Fetus, & Remains Of Every
Abortion. WTF!?!?!? How Is He Not Jailed
For Wastin' Tax Payers $ On Insane Shit?
Have a day!