When you are a lying, racist, bully
"Reality" has this Constant way of
(<-What A Mess!)
always catching up with YOU. Oh
& then the real racist hate begins
His Drumpf University went belly
up so badly. And he was SUED &
that trial, which he will 'lose' very
badly, is on going. The Judge just
ruled against him, & will "Unseal"
all Trump U documents. Ouch, &
It Will DESTROY Him. And, so his
reaction?!? Be 'racist' against the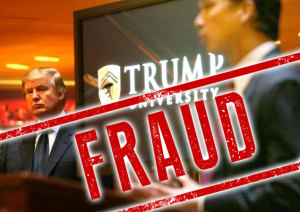 (We know)
judge. Not only is that disgusting
it's also Contempt of Court/using
a political rally to racially hate on
a sitting judge. Oooooooooooops!
What other "Bad Things" are now
happening to Ol' Bigot Toy?!?!?!?
He's 'likely' not even a Billionaire
and every "Major Analyst" Agrees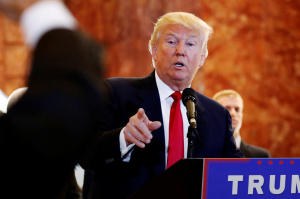 ("Hey now!")
How bad does it get?!?! Read this:
"I know Donald; I've "known him" a long
time, & it Gets Under His Skin if you start
writing bout the reasons he won't Disclose
his Returns, you would see that he doesn't
have the money that he claims to have and
he's not paying much of anything in taxes"
-Prominent Hedge Fund Manager
It gets worse, & mean WAY worse:
"Trump has a Tendency to Value his brand
at a very high amount but these are usually
intangible valuations 'pulled' out of 'thin air',
and he seems to be reporting gross revenue.
There is a huge difference between that and
net income. What really matters is what you
put in the bank (Pure Cash on hand today)"
-Steve Stanganelli, Certified Financial
planner at Clear View Wealth Advisors
And, now Drumpfs Top "Christian
Policy Advisor" thinks he Stopped
a fucking Tsunami & cured Cancer
And NOW, it is lie #25 billion, with
the 'Vets Donation' Lies. He didn't
even give the 1 million like he said
("Who Me?!?")
he did. He LIED about it all and it
is just ONE more sector of society
that will justly all hate him forever
What planet is this?!?!?! In my life
I have NEVER seen this Shit Show
known as the Drumpfer in politics
Hillary v Sanders continues to roll
on so remember to vote vote vote
NOTE: "Horror" Shooting At UCLA
Campus Leavin' 2 Dead As Of Now
NOTE II: The NeoCon Wing Of The
Republican Wants 2 Split Drumpf's
Already Halved Votes. Oooooooops
INSANE: Trump, Has "Over" 3,500
Lawsuits, Most Of Any "Candidate"
Have a day!