It seems Bernie Sanders is not yet
out of it yet (He has won, 5 of the
(Hillary does)
last six states) and by a Lot. He's
got the 'Mojo' right now. Look out
Hillary. He is coming, and for your
spot on the "roster". So, the super
Delegates Will Break for Bernie, if
he "wins out" the rest and by a lot
What was a 'sure thing' for Clinton,
just turn into a "wait & see". She's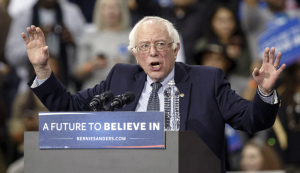 ("We got this!")
on the hot seat. And, the more big
'wins' he puts up, the worse it gets
And with voters in these blow outs
they're Breaking Sanders Way at a
clip of 3 out of 4. Booooooooooom!
NOTE: TeaOP Radio Host "Grills"
Trumpy On Cruz, & Wife Bashing
Have a day!