The Oregon Fuck Dynasty dress up Cowboys
are Officially over. One is "Dead", by his own
(True)
demands. He wanted to die. Remember the
Nutty Idiot Robert LaVoy Talking to CNN in
the rain under a bluetarp sayin, "Â I have no
intention of spending ANY OF my DAYS in a
concrete box". Who the ever lovin fuck gets
to SAY THAT to law Enforcement?!?!?! What
if that was a group of black men? Muslims?!
These loud morons are terrorists. They're so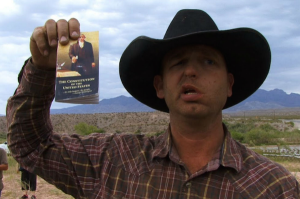 (You violated it!)
like ISIS in every possible way; and even got
the beards to boot. The only difference is the
Religious Book they claim to follow. While all
using Violent Force to get their political ways
They will do heavy time for these acts of hate
Republican PAC's Are Scared
What if I told ya Bernie Sanders has a better
chance today then he did before? Cubs Todd
(Moron in the middle)
Ricketts super PAC spent $800,000 running
attack ads against Bernie Sanders. See Tom
is saying is "Bring on Hillary!!!". What all the
Democratic leaders think Todds group wants
Bernie. OK, either way they will so regret the
thing they wish for. See in a General Election
Bernies policy positions are sound. They ALL
resonate politically in all polls. See, in trying
("I need BS help!")
to hurt Bernie they are stating ALL his policy
positions, which actually HELP him. That's a
hilarious mistake. Which "means" Sanders is
the Nominee. They WANT Clinton. If Trump
wins, he will correctly say, "See, she's taking
all the Money Too, so we both suck. Pick Me
because…well fuck her. She's a liar!". BUT, a
Sanders debate Throws That Bullshit out the
(<-Trump Voters!)
window. Bernie Will Destroy Any Republican
with policy, facts, history, and Popular Ideas
NOTE: The 'Final' Republican "Shit Show"
Debate Before the Iowa Vote Is Tonight!!!
Trumpless Doesn't Want To Hurt Himself
Have a day!