Bernie "feel the bern" Sanders is
now a serious contender. And, is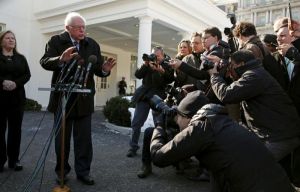 (It's Berns!)
so serious, he "Met" with Obama
today. Did Obama endorse him?!
No, but he also did NOT endorse
Hillary Clinton either. 'Vowing' to
"stay out of endorsin" and let us
Voters Decide. NOOOOOOOOICE
Look out, this Winter & Spring is
going to be one wild, fun, ride!!!!
NOTE: Ammon, & Ryan Bundy
Are Now Arrested! Ha Ha Ha!!!
Justice Will Come For All These
Fucking Morons "Playing" Guns
Have a day!