What's 500,000 lbs, lies, & is so breath
takingly stupid? Congress! What do we
(Do Nothing Part II)
win?!?!?!?! Oh right a REPUBLICAN run
Congress. The loud mouthed do nothin'
children are tryin' to repeal Obamacare
for the 62nd time. And it will FAIL as it
always has. They clearly Don't even get
how Government WORKS. A veto is the
end game, & they always lose. Speakin'
of "Insanity", they aren't serving any of
(We won't govern)
the American People. They Only 'Serve'
their donors. And it seems the voters'll
show these do nothings the door quick!
Face Of A Trump Supporter
When a hateful racist moron goes on a
rant, simply record it. That shines a big
(Bigot boy)
light on them and exposes them for the
Hateful, Tiny, racist coward they all are
John Pisone (Piss One), you can't make
this shit up, seriously you can't, is a big
ass racist douche. And he went on a big
tirade using the N-word, just abusing a
group of peaceful protesters. Classy ass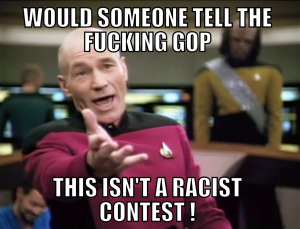 (They don't care)
right there. He got fired from his job, &
that's how you handle All Racists. Shine
a bright light on them. It ends em quick
NOTE: Officer Indicted In Bland Death
NOTE II: Moron Armed Criminal "Nuts"
& Treasonous Turds Are "Rosa Parks"?
No. She Didn't Not Pay & Gun The Bus
Have a day!