You can't shake a stick at the Republican
Armed Dipshits these days without a gun
(Please!!!)
being put in your face. They are now ALL
Occupying a Federal Building. And, what
name is a focal one? Cliven Bundy's KID!
And they're getting a 93% DISCOUNT as
of today. Why are they doing this?!? Well
the original protesters of about 300 were
mostly peaceful. But, the Protesters Who
stayed behind, and New Ones Came then
took over the building by force with guns
Stay classy you armed law breaking cunts
(YeHadits)
Here are all the facts on this lunacy now
These Are Domestic Terrorists, PERIOD!!!
When citizens all take up arms against us
that is Not Only Treason, it is 'Terrorism"
Violence In The Name of Any Political, Or
Religious Ideology is The Exact Definition
So ask yourself. What if a group of armed
black citizens, or Muslims, or Any OTHER
group took over a building by force?!?!?!?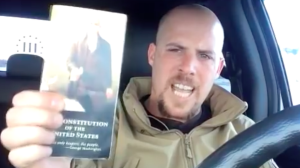 (He violated that)
THAT'S a Very serious problem in society
today & at least we can all acknowledge it
For People Who Can't, there is a very BIG
reason Why they refuse that. They're hate
I hope this ends peacefully. What PRICKS
NOTE: A Former "Pro-Militia Dude" Calls
Them All "Clowns" As He Drives By Them
Have a day!