Trump is back leading in the Republican Shit
Show known only as the WTF 2016 Primaries
(Sadly we know)
And his xenophobic, ignorantly bigoted views
has a new face. A new vessel of what it looks
like in real life. A large, bald, ignorant douche
stood up in a public town hall meeting yelling
overtly Racist Shit Against Muslim Americans
Samer Shalaby a Civil Engineer, and member
of the "Islamic Center of Fredericksburg" was
discussin' plans for the new worship center at
A Spotsylvania County Meeting. That, is when
Klan Man, stood up Shouting his insane racist
(<"I'm a racist prick")
bullshit, Threatening Violence. He then yelled:
"Every one of you are terrorists, I don't care what
you say. Every Muslim is a terrorist. So shut your
mouth. I don't want to hear your mouth. I will do
everything that I can do….to keep you from doing
what you're doing, It'll happen. That will happen"
Maybe, Trump Found A New Campaign Manger
Not only is it ignorant, the few other Fuckos all
applauding was even more disgusting. It is like
a collection of all the dumbest assholes spewin'
White Power, Trump 2016…….Kill Brown People
I'd shake my Head in sadness, but it is too sore
They're all a Cautionary Tale of limitless bigotry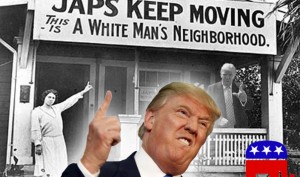 (Yes, we know)
NOTE: ISIS Attacked A Hotel In Mali Killing 27
This Will NOT Stand. ISIS/Al Qaeda, You'll Die
Have a day!