What do ya get when you Cross an ignorant
Redneck with a low IQ? A domestic terrorist
(We know)
61 year-old Marshall W. Leonard, Wanted to
"Blow Up" a Wal-Mart because they stopped
selling Confederate Flags. He Threw a Bomb
"Explosive Device" Inside the Store, then he
told an employee on break "You better run!"
Probably because he was white. If it was any
other nationality, fuck em. It was not a large
explosion, & it didn't cause any seriously bad
("Superior race" my ass)
damage. It seems fucko Can't even properly
Build a Bomb Correctly. Thank Shit for That
Are many people reporting on this?!? NOPE
And Why?! Because White Supremacists are
magically not domestic terrorists?!? Oh fuck
no. Not according to media outlets. But even
they know (the FBI/CIA/DHS) All know that
they are, & got a Massive List already today
This type of Racist Terrorism, Will not Stand
Democrats Losing In The South…
Is what we would call a Tuesday. Democrats
lost in a few races in Kentucky (So No shock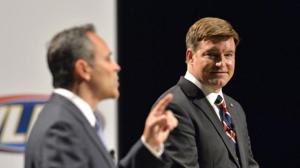 (But…wait!)
there), Virgina, & Mississippi. All those Wins
are NOT remotely shocking. The dying older
White Rural Racist Southern Strategy Voters
is all Republicans have left and it's shrinking
by the day. It is not enough to ever Win the
National Presidential Election Again. That, is
Not My Opinion. That is a Demographic Fact
And what are they doing to change that?!?!?
(<-Yes we remember)
Well, as all good "Conservatives"- NOTHING!
Mini wins in election cycles are called pyrrhic
victories. Yes, they win in the short term BUT
will lose badly in the long. They are all simply
whistling past their own tombstones. So, will
they Change?! No. Change is Unacceptable to
them. Their own Hate consumed em long ago
Have a day!