It's Draft Day in Chicago! Buckle up bitches
It is ON like Donkey Kong. Sunny and I will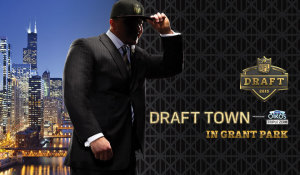 (Bring it!)
heading over there tonight for the coverage
and the Bears pick 7th & we'll see. My guess
is, they take the WR White, if he's there at 7
This should be a blast. They have a location
called "draft town", hopefully it's big enough
for the 10,000's of us. You know, if they lost
a letter it'd be called "Daft Town". Just sayin
This will be very exciting stuff to see. I'll take

("Who run Draft Town?")
pics for Tomorrow Blog, to give ya front row
seat. Can't promise I'll be sober in any of em
So no matter what team you are cheering for
enjoy this kick ass town, & time. Bear Down!
The "Rioting" Lose Lose Case
MSNBC, caught up with a Protester to get a
classic education on why Riots happen. And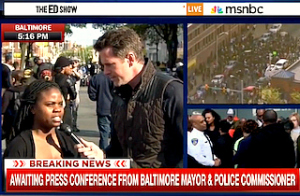 (Bravo!)
it turns out, aside from the violent people &
anarchists doing dumb shit, the media's also
to Blame Because THEY, only COVER These
events when they riot. She was spot on here,
replying to "does rioting represent the city?"
"No it doesn't but my question to you is when
we were out here protesting all last week for 6
days straight Peacefully, there were NO News
cameras, there were no helicopters, there was
no riot gear and nobody heard us. So now that
we burned down buildings & set business's on
fire, & looted buildings, now all of the sudden
everybody wants hear us. WHY does it take a
Catastrophe like This, in order for America to
hear our cry? Enough is enough. We've had 2
many lives lost at the hands of police officers"
BOOM! That is SOÂ devastating right there now
What she was explaining to "Captain Asshole"
was "We either get no coverage to OUR issues
when we protest peacefully, or we get negative
coverage when people say 'fuck this', & start to
riot". It's a "lose lose". And the media has been
(We know)
hideous because lost in all this they ALL refuse
to touch or discuss the WHY this is happening
Because that would be actual journalism there
Don't ever confuse todays media for journalism
NOTE: Much Love Out To All Families/Victims
In The Nepal Earthquake. We Stand With You!
And Great News About Three Survivors in it all
Have a day!