This makes me projectile vomit. Freddie Gray
was killed, in cold blood, by evil hateful racist
(Freddie Gray killed)
cops in Baltimore. Period. End of story. THIS
isn't up for debate. "Eye Contact", with a Cop
is now Grounds for police to chase, abuse and
kill Freddie Gray? Cops do stuff called "Nickle
Rides" where they intentionally drive around
hard turnin fast while any suspect isn't belted
properly and cuffed. They Go Bouncing off all
the vans walls damaging their body & in most
cases breaking their spines. It happened in 05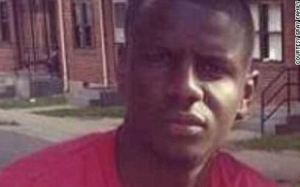 (Dondi Johnson)
This is murder, period. So Freddies spine was
"severed", & he died. What's unclear is if Fred
was hurt/how badly before or while in the van
The 'Fucking Evil Murdering Cops' Claim it was
in the 'van' by their own public admission now
Holy fucking shit. These killers not only should
not be cops, they be in FUCKING JAIL TODAY!!!
If the "Cops" protect these killers, as a citizen I
assume they Share the same Racist killer views
And then, I'll treat them all accordingly as such
NOTE: Cops Kill Man by Tasing Him to Death
And kill schizophrenic man with a screwdriver
The kicker? All charges against them dropped
NOTE II: The White Sox VS. Orioles, has been
Postponed due to riots over Gray death by cops
Have a day!