Oh you know exactly what I'm talking about right?
Meat deliveries, where do you take them? See, I've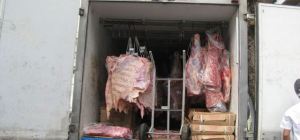 (Truck-O-Meat!)
noticed the front door is closer to the kitchen so it
makes more sense to me, and…wait a second. Why
are you looking at me like that? Oh, wait, ohhhhhh
you thought I was talking about Something Totally
Different. Yeah I can see the double entendre there
But anyway, back to the Wonderful World of "Meat
Deliveries" & how a penis can go in your lil butthole
Have a weekend!