Cleveland Browns wide reciever, Andrew Hawkins
whom I had on my "Fantasy Football team" at one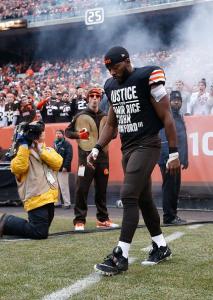 (New hero!)
point, said the most amazing thing regurading the
entire "I Can't Breathe" hand wringing; listen here
"To clarify, I utterly respect and appreciate every police
officer that protects and serves all of us with honesty,
integrity & the right way. And I don't think those kind
of officers should be offended by what I did. My mom
taught me my entire life to respect law enforcement. I
have family, close friends that are incredible police
officers and I tell them all the time how they are much
braver than me for it. So my wearing a T-shirt wasn't a
stance against every police officer or police department.
My wearing the T-shirt, was a stance against wrong
individuals doing the wrong thing for the wrong reasons
to innocent people…Ultimately, it means fair treatment,
so a call for justice shouldn't offend or disrespect anybody.
A call for justice shouldn't warrant an apology."
It is one of the most thought proving statements on
the issue to date. He wore a simple T-shirt, over his
jersery to make a single point "justice should be the
goal of every American". Yes, it should. So how well
did that sit with some racist fuck cops?!? Cleveland
Police Union Head Jeff Follmer responded, with this:
"They should stick to what they know best on the field.
The Cleveland police protect & serve Browns stadium,
and the Browns organization owes us an apology"
(Mega asshole)
How utterly tone-deaf. How lost, & how blindly sad
He's callin' out the instutionally racist cops, & when
the 1st thing, is to defend them, THAT IS the issue
The fucking asshole went on MSNBC, & HE fucking
defended killin a 12 year old kid who was no threat
Dogshit on the sidewalk has more to offer all society
then this bald talking penis. What a fucking bigoted
loser asshole. His response, to Hawkin's thoughtful
will be what all lying racist do. Just lies, & "crickets"
Have a day!