That was so two weeks ago am I right?!?!? The
total number of American's with Ebola is…zero
(We know)
What'll FOX do now to scare the village idiots?
Oh, they have a deep bench: killer immigrants,
Mexican illegals going house to house, or even
"The Blacks" are movin' 2 YOUR neighborhood
You read it here 1st as you always do. It wasn't
the "Panic" 24/7 cable news "Freak outs" about
shit they do not understand. The morons with a
Bio-Hazard suit smearing chocolate on them as
if it was feces. The entire Republican party fears
of shit they know less than nothing about & also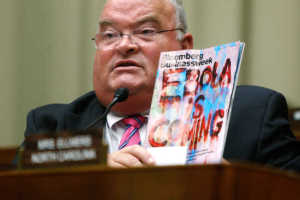 (Fear cholesterol ace)
Ex-Democrat Mark Pryor not knowing anything
The problems with Corporate Run Media is that:
they're all factually lacking and ALL batshitcrazy
They won't report facts, nonpartisan statistics or
anything found in reality. It is all fear, ignorance,
& opinion. Then you mix that with people totally
ignoring history, economics, science, & all reality
BINGO! You get cable news. Where chest puffing
opinion magically equals facts. Ah, no. You idiots
(Not "news")
just created an environment to dull your audience
serving your corporate masters all for; ad revenue
And the effects of the viewers being ill informed is
ASStounding!!! Guess I shouldn't be mad, after all,
it is why people read me. I should really thank you
Anyone else notice all that "Ebola Fear" left media
right after the Mid-Terms?!?!?!? Yeah, me neither
NOTE: My brother Dan was on Morning Joe Blow
NOTE II: D-Mary Landrieu Is A Lying Fraud Prick
She will try to pass the Keystone XL big oil welfare
Have a day!