The Supreme Court might now, just take the ACA away
The reason they're "taking on the case"?! No one knows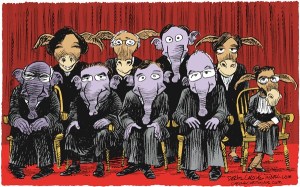 (It's 5-4 folks)
There is still no split in the lower, circuit courts. But, the
high court agreed to hear King v. Burwell. Really?!?!?!?!
They didn't rule on gay marriage being equal protection
under the law. They avoided it. They did rule on Hobby
Lobby, Citizens United, & insanely publicly struck down
the Voters Act claiming "Racism is over". Ummmmm no
It is not at all. In fact, all people with eyes sees it is all on
the rise in our country. Now the judges who have a large
(Citizens United a$$hole)
conservative majority will try to take the ACA apart piece
by piece using "partisan hackery hate". Krugman called it:
"So let's be clear about what's happening here. Judges who
support this cruel absurdity aren't stupid; they know what
they're doing. What they are, instead, is corrupt, willing to
pervert the law to serve political masters; & what we'll find
out in the months ahead is how deep the corruption goes."
Yes. The USA today; bought for, & paid by the top 3% and
telling the rest of the country, to quickly just go fuck itself
Here is the best news. People, actually LIKE the ACA, & it
will 'Piss Off' voters. Now Republican's have power, & they
will do nothing. They will hold the cold evil burden of ALL
(TeaOP doesn't care)
our anger being blamed…as they should've been this entire
Mid-Terms…ending them so badly. See when you can only
obstruct, & you get power, you off yourself. Oooooooooops
My Brother Has A New Book
My oldest brother Daniel/Dan, has a new book coming out
It's called "Why We Lost". Its about the Iraq & Afghanistan
(Great book so far)
wars, what happened, & what it all means. It's such sober &
refreshing look into the wars from a man who lived in them
This book needed to be made. It, takes a deep look into that
mirror. It's a 1st step into knowing theyself, & correcting the
mistakes. If you don't, you whistle past the graveyard as you
notice your own tomb stone with today's date. Reality & the
concept of honest fair assessments in today's world are rare
As is my brother. I'm half way through it, and can not put it
(Dutch angle=badass)
down. If you have any interest in the historical facts of these
wars, its a must read. He's a great writer and a better person
If you want to buy it, please do. If it's not your thing, coolieo
He'll be on Billo's FOX tomorrow nite at 7pm CST & then on
MSNBC's Morning Joe Blow tomorrow 7-9am. Then on wed
MSNBC's The Cycle from 3-4pm. All times are Central time
Thank me later if we ever do meet; buy me a Captain & coke
NOTE: Nothing says today's Republicans vs. TeaOP like
the KKK vs. Nazi's both holding Rally's on the same day
Have a day!