Now comes the fun part. The TeaOP must actually
govern. Do not expect any of it what-so-ever and it
(Such diversity!)
will get worse as the 'Turd Cruz's' and Joni Ernst's
want to "sue Obama" for being black & from Kenya
You can only obstruct, hate & shut the government
as a "leadership tactic" for so long. Well you finally
have over 50 seats in the US Senate, and what will
they do with it. They will shit the bed. They are all
pretending that before election night the entire US
was ruined, now it's saved. Um, no. It was heading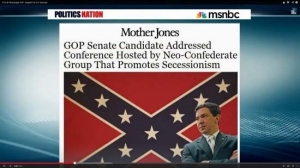 (Not him, but a Confederate won)
in the right direction, they just wanted the 'power'
to claim "No WE all did it, not the black guy". Um,
what planet do these people live on?!?!?!? A magic
"cloud man" tells them what to do, ignores facts, &
does not understand history, economics, or reality
Hey my elephants, you just 'forgot'. It's YOUR shit
now, so don't expect anything to get better for you
Have a day!