Speaking of, "Racist Welfare Violent Fucks", what do
you suppose Cliven 'Al' Bundy is up too? More racism
(The Moron Twins)
Here's the interesting thing about moron racists, they
will always let you know their hatefully rotten racism
Here's a political ad he did with "Token Uncle Rukus":
"I know black folks have a had a hard time with slavery, and you
know, the government was in on it, & the government is in on it
again…I worked my whole life w/o mistreating anybody. A man
ought to be able to express himself, without being called names"
Well, if by "worked my whole life", equals "freeloading
without paying your bills", sure. And, here is the BEST
rub; if you don't wish to be called "racist", STOP saying
overtly racist shit you old fuck. What he's really asking
for is "Can't you just call my racism "cool awesome"?!"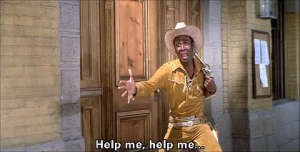 (Rock Ridge baby)
No, but I will call this what it is; comedy gold. SNL can
not write sketches this good. It is like Blazing Saddles –
the comedy. Well, minus the 'intentional comedy'. This
gets worse. The "Token" goes on, to humiliate himself:
"A brave white man like you might be just what we need to put
an end to this: "political correctness stuff" in America today."
Well, it seems that Snowball sure does love Candyland
The thing I feel most sorry for is the horse. And it goes
to shit at 1:26, effectively "commenting on" their whole
(We know)
horribly acted 'Token Racist Ad'. You'd think they can't
sink any lower; give him time to find a new rockbottom
Speaking Of "Racially Tone Deaf"...
South Carolina Governor Nikki Haley thinks flying the
"Confederate Flag" is "totes cool" since no CEO's have
("Fuuuugetaboutit")
complained yet. You think I'm kidding right?!?!?!?! No:
"I spent…my days on the phones with CEOs recruiting
jobs to this state, I can honestly say I have not had one
conversation with a single CEO about the Confederate flag"
But it gets better. Wait did I say better? I meant worse
"But we really kind of fixed all that when you elected the 1st
Indian-American female governor & when we appointed the
1st African-American U.S. senator, that sent a huge message"
Ahhhhh yes. Nikki, can I introduce you to Cliven Bundy?
The old "Racism is over because X!" lie. No, racism is far
from over lady, & waving that flag defining "Institutional
Racism, treason, & sedition" isn't fucking helping. In fact
(WTF!?!?!)
it shows such a profound "ignorance of US History" and a
blind spot for pure hate. How about you let us know your
CEO's list, so we can make informed purchasing decisions
Surely they wouldn't object. What's that?!?!? They do?!?!?
For people "who don't talk about it", they sure run from it
NOTE: The Chicago Bears are not a professional football
team. They're bi-polar nuts run by glasses Nurse Rachett
NOTE II: A Lucas Oil Founder, Goes On "Racist FB Rant"
NOTE III: Biden's Kid Kicked Out Cocaine In His System
Have a day!