Mitch "The Turtle" Bitch McConnell tried to demand Grimes
vote on 'Obama'. It did not work. And for the great people of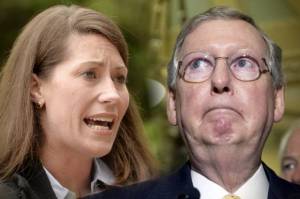 ("It's on Mitchy!")
Kentucky it didn't either. Mitch is playing politics, not policy
THAT is the headline here. In the debate. they spoke of coal,
jobs & the minimum wage. Mitch doesn't WANT to talk bout
that at all. It kill him politically so it's time for games. Well?!
Kentucky is done with games. They must elect someone who
will actually govern. And Mitch has a proven track record of
never doing that unless it's for the top 1%, or ALL his donors
("Want a creepy beer?!?!")
Back from Florida after a great weekend with my family. And
it's great to be back baby. Especially after a big Bears WIN!!!!
NOTE: Judge Poser Does It Again, With Evil Voter ID Laws
NOTE II: Cornel West Arrested For Peaceful Protest. WTF?!
Have a day!