In Political Poker a pair of tits always beats "guns"?!
Texas open carry gun advocates started complaining
(A compromise?!?!)
that "topless protesters" are "ruining" their monthly
walks in support of gun rights. They chose to take to
social media to call them all "skanky topless libtards"
And forget, like tits, there were only two. The reason
the women were protesting?!?! It's legal to be topless
in Austin, Texas. Their cogent point was, "Just cause
you legally can do something, doesn't mean that you
should". So, society has boundaries of good behavior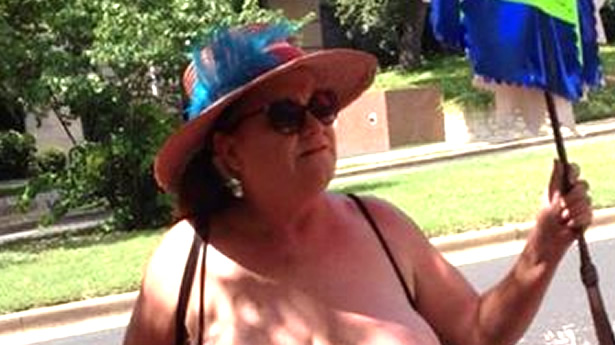 (Boobs for peace)
The gun toting morons couldn't grasp when their big
ignorance in the form of tits was "literally" shoved in
their "faces". It's gun nut tea party dolts, so naturally,
next came…the racism. According to one of the ladies
"We were told we were a disgrace to our
race by a couple of the open carry guys"
Race has nothing to do with brandishing weapons on
our streets & this lead to the ladies following the men
into the restaurant, using terms like 'white pride' and
white power which so bothered the gun toting racists
Well cry me a fucking river, you massively big pussies
(No shit!)
If you don't want to be called racist. Stop saying racist
shit. Pretty simple. But they won't. Guess in the newly
nutso Conservative World of Batshitcrazy a pair of tits
on the street are more dangerous then loaded AR-15s
Tits do not kill people; guys with tiny dicks, & guns do
Have a day!