Hope you all had a great 4th of July! No short wicks, or else your
new name is "3 Fingers Louie". I'm back BABY! *crickets* Ohhhh
(*Crickets*)
I see, not much of a big deal then. If you were hoping to avoid yet
another "here's an overt racist" blog post. Society just didn't 'play'
fair. Anthony from the radio show "Opie & Anthony" is now fired
"But why John !?!?!" you ask me. Well, it turns out he claims that
he was "assaulted" in times square the other day when he was just
taking pics of the area in times square when a women "happened"
to get into frame. Accordin' to Anthony the woman objected to the
photos of her, & started 'punching' him. So, he called her a "Cunt",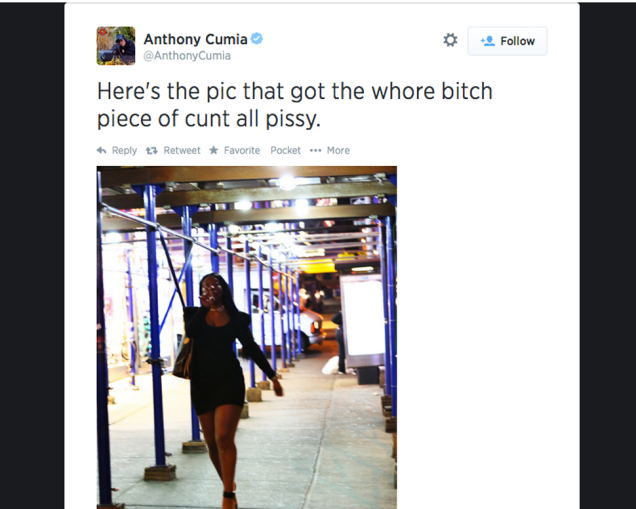 (City street, not TS)
then went on Twitter to deliver, the most "racist, sad, idiotic hate":
Ah yes, now reality. If he "taking pics of the 'area' in times square"
I don't know how scaffolding under an unmarked street 'qualifies'
as times square. If you see some random person, following you, &
taking pics, you might get a tad upset. Also, when Sirius XM fires
you for your racist tweets, that might be another sign you "fucked
up" badly. But no, it's all the "uppity savage black ladies fault". Oh
boy. It gets worse. He filed no assault charges, & claimed he had a
(Ok, Mr. Racist)
"gun" on him at the time in twitter rant. This is like "Lunatic Loser
Theater". The kicker, as all racists do. They spew it then try to hide
it. He deleted all his tweets. No matter the world clearly got a good
look at what Anthony really thinks about minorities, & even Cliven
Bundy didn't go that far. Just let that sink in for a moment…so sad
I will not post 'anything' about him ever again & will deny him any
extra celebrity from my 'finger tips'. He is a "tiny, hateful, nothing"
Tomorrow: "Frothy" Santorum Thinks Minorities Shouldn't Vote
Welcome back, have a day!