The shut down is over!  Finally! The Senate Republican's did the right
thing. Yes, I typed that. It was the RIGHT THING to do. It's about time
("Shoulda faught harder!"(
Our economy isn't a fucking game or toy to screw around with. So now,
it's very clear, that MOST Republican's on the hard right learned NADA
Zip, nothing, bubkiss, zero, zilch, etc. What did the Tea Cruz/Rush take
from this epic ignorant meltdown of common sense?! Well, it was THIS:
They didn't go far ENOUGH RIGHT. *slaps hand to forehead in horror*
Sorry, that's it. No more. I'm not having conversations with the clinically
insane. It's simply too taxing on me emotionally, & has eroded my 'Soul'
(yeah)
You can not reason with insane. It's not interested in facts, math, reality,
economics, history, the truth, honesty, legislation, policy, or ANYTHING
that doesn't fit in their bubble of partisan lies. These people will "debate"
gravity with you IF you let them. At some point, when we can't agree on
basic facts & reality; there's no way to ever overcome that divide. No way
See, when I say, "well shutting down our government & threatening our
debt ceiling economically impacts us in a seriously negative way!". Then
the response is, "No it won't ass. I got a wallet, & understand it, U idiot"
This is a DEEP disconnect from reality that I haven't witnessed in ages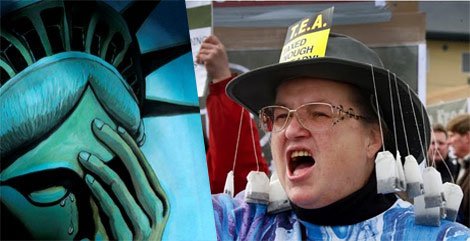 (what morons)
It's like a guy being loudly proud, while utter horseshit lies dribbles out
his mouth. Then when factually corrected, they yell, "Commie!". WTF?!
The right wing talk radio/partisan hate machine/conspiracy trolls have
created this. It's better to make $ with this insanity, then do REAL work
Our country has moved further right. No doubt. The Democrats are now
the soft RIGHT. There IS NO left today in governance aside from maybe
Bernie Sanders who couldn't pass breakfast. The people, I feel most bad
for, are the dupes & suckers who bought that partisan hate, insanity, and
lies from these TeaOP'ers. Smarten up, & when you get below the surface
deeper you always find the "Obama is X", "from Kenya", or he is "Other"
(loves racist Jesse Helms)
THAT'S the driving force. Not policy, not helping Americans, or working
And after all the smoke, the hate, the lies, the insanity. That's all you get!
Democratic Mayor Bob "Prev-Master" Filner Pleads Guilty
Good! What a creepy turd hole. He abused his power, & placed women in
such commonly shitty work situations of jobs for jobs. Weak. He is SOOO
("yes, I'm a turd")
"creepy looking" to boot. Meh, he got what he deserved. BUT, it never can
take away the damage done to these women he messed with. He's now the
new Poster Boy Of Sexual Perv-ment. I guess San Diego gets a new mayor
who better not fondle their fucking co-workers, & harass them. Or they get
the O-Line of the Chargers to do a tap dance on their faces. Cool? Coooool
Have a Day!