Looks like it. "Tea Turds" all waited way too long stopping this insanity. It
was created directly by the "House TeaOP crackpots" who ALL did this for,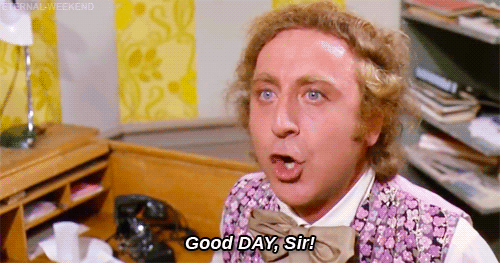 ("I said good day!")
NOTHING. They get nothing, they LOSE, good day sir! Now leave you ass!
Let's all be CRYSTAL clear now: this should not have EVER happened, BUT
they don't care. They don't listen. They don't understand basic government
They have not only all killed themselves; so they just told EVERY American;
"Hey, suck it! We HATE Obama; & you must do the same, or we burn it all!"
Pretty damn tough slogan to fit on a button. Meh, they died with this move
Pat fuckin' Robertson's the voice of reason now to the TeaOP. Let that sink
in for one moment. WTF?!? Make no mistake, Pat loves the TeaOP's social
(Ooooooops)
views of hate, intolerance, racism & discrimination. Where they split is his
pocketbook. Their stupid insane views almost hurt his wallet/wealth/401k
period. That's why he said this. So, what was the agreement then? They all
agreed to sit down to hash out another budget by mid-December, & keepin'
our government open until February 7th. The budget part is like corralling
insane sociopath children. It demands, they all present their results by Dec
13th, which gives "law makers" plenty of time to finish before mid-January
The winners: there fucking are none. Well politically I guess it's Democrats,
but it's not a real win. It is sorta like picking the pockets of a murder victim
(dead)
The losers: all rational Americans, the economy, our government, jobs, cash
flow, credit, housin market, math, economics, confidence, reality, and facts
If these Republican pricks try any Bullshit with the next two deadlines, the
entire country will go to DC and arrest them all for treason. Society, country,
& our entire economy isn't a fucking toy/game to fuck with. These dickslaps
will go down in history as the worst blight ever on our countries government
FOX News Bullshit Meter Goes Into Hyper-Orbit
It seems Obamacare hit big snags in its roll out. Totally true. Yep, & now it
will be reflexive to be used wisely hopefully. If not, it is ALL their own fault
(ouch!)
BUT aside from those "Snags", FOX has gone into Barshitcrazylunar mode
They even went so far as to bring in paid partisan political pundits, then try
to "pretend" they aren't all partisan political turds, by dressing them all up
as "town hall" people. No, they're ALL Paid Political Operatives. Holy fuck!
The only one I saw yesterday was noted economist Austin Goolsbee, & one
women literally surrounded by around 20 other partisans yelling at them!!!
(ALL partisan idiots)
Guess Sean wasn't gettin ratings he wanted with a jerk-off echo chamber &
so he/his producers playing to older shut-in's and older patients in a coma
thought, "Let's make it an uneven shouting match between sane people, &
utter crazies!". Well, nothing will save FOX, they lose viewers by the day, &
they're losing them to death, so the grip of ignorance, fear, lies, & partisan
hate is dying with them. Meh, the world is changing no matter what "older"
crazy sadly mega stupid bigots say. The sun sets on this hate, bringing with
it, the chance of a united tomorrow. Where we all start doing shit together!
Have a day!