A horrible group of 'three sociopaths' decided to tragically kill an innocent
baseball player who was jogging. 2 black teens, & 1 white/mixed teen shot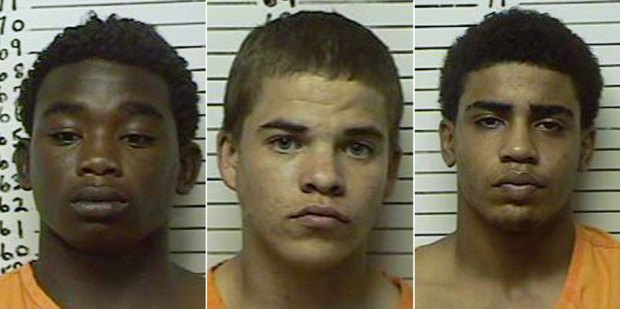 (evil sociopaths)
& killed Christopher Lane. The reasons?! "We were bored & decided to kill
somebody for the fun of it". Evil, F-ed up pure sociopaths w/no soul. They
should be locked up forever and the key should be thrown away. They even
might have killed an animal before it all, & were caught while attempting to
target another. They're in jail, as one kid, "danced & laughed" about it. It is
so pukingly sad. But justice will be done to these fucked up three monsters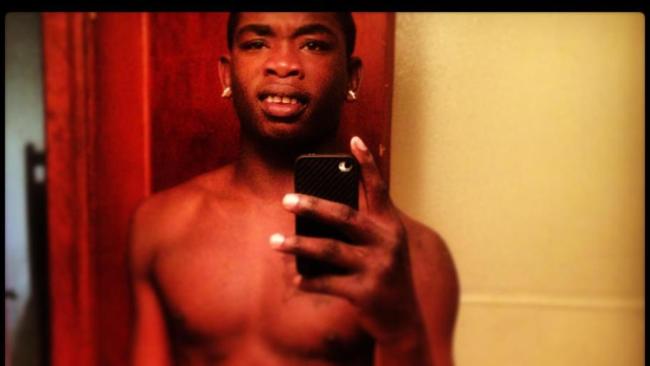 (hope jail kills you POS)
So what did FOX/racists do? Ohhhhhhh, instantly try to conflate this event
with the 'Trayvon Martin killing'. Forget the police never arrested the killer
They let Zimmerman go fucking free. The 3 killer assholes are ALL in JAIL
And will most likely serve life in prison; & they should serve no less IMHO
See, when people look for racism, even after viewing all the facts of today,
if there is nothing more than, "Hey, they were sociopaths", which seems to
(Racist Daily Caller lies here)
be the exact views of police Chief Danny Ford; they now got a big ass light
up arrow pointing at them with the words "I'm a fucking Racist" trying to
conflate two unrelated events. They're 'totally dissimilar' in every possible
way from circumstance, to being arrested now, to motive. But who cares?!
Then FOX does what they do best. Stoke their white suburban racist base
to irrational lying levels echoing "Uncle Ruckus Token Black Guy" who will
("Step & Fetch It")
make them feel justified to wallow in their 'racist crapulence'. Allen West
walks out to claim "Who will Obama identify with this time?". Hey buddy,
go FUCK YOURSELF you "token" pile of hateful shit. This "creepy lying"
asshole should take his dick & fuck himself. That way, he knows exactly
what it is like for the rest of the world when he speaks ignorance. Forget
that Aussie's all accept this is about "GUN CONTROL", not race. But who
cares about the country from where the nice young man was from, right?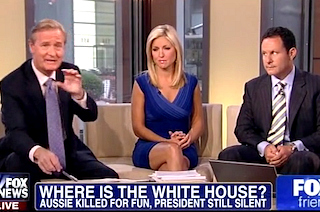 (It's the "Moron Hate Squad")
What a collection of "hateful, disgusting assholes" with no soul. They will
all need to look in a mirror soon. And will most likely blame black people
Tomorrow: Bradley Manning Will Be Taking "Wikileaks" Sitting Down?!
Have a day!