Jack Swagger is his name, & the Tea Party Don't Tread On Me is
his meme. His manager's Zeb Colter with an unstable Militia feel
(a gig's a gig)
It has tons of conservative wrestling fans, flipping out about this
Showing most conservative wrestling fans big hypocrisy: had no
problem with the Iron Sheik, Saba Simba, Akeem, the Mexicools
(they enter riding lawn mowers), and many more. BUT if THEIR
southern partisan ethnic background is mocked, "Ohhhh nooooz"
(Don't Turd On Me)
Some of the butt-hurt knuckle draggers took to twitter with dumb:
Sister Toldjah
"I see the @wwe is crapping all over the Tea Party right now w/the
Jack Swagger gimmick. #NotCool#raw#wwe#smackdown#tcot"
Mark Scudder
"@WWE What the fuck are you doing with this Zeb Coulter guy? A
heel with a Tea Party stereotype angle? Do you still want my money?"
Melissa Clouthier
"So the #wwe announcers just said Jack Swagger is like Alex Jones
and Rush Limbaugh. They had a Don't Tread On Me poster."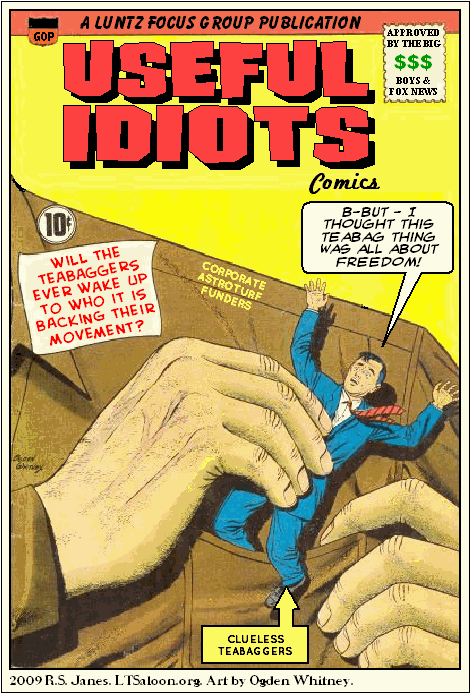 (morons)
Just some of the twat tweets, but you can read more here if you like
Jack AKA "Jacob Hager" was arrested & charged with driving under
the influence of an illegal substance, weed possession, and speeding
Don't have any problem with him smoking weed. It should be legal
But Jacob is now doing "method acting", & actually becoming a TT
(tea time)
(TT is short for Tea Turd. We'd also accept Idiot, Douche, or Fucko)
Have a day!