baby's crying on airplanes is the most common thing if you have
ever traveled. It's cliche at this point. But I've never heard of or
thought anything likes this could ever happen. This "taint hole"
("I'm a racist POS")
shit named Joe Rickey Hundley, who's the president of Unitech
Composites & Structures, during the planes decent, told a mom
to "shut that (N-word) baby up"; then proceeded to slap the boy
*big Disney record scratch sound effect*
The mother Ms. Bennett was shocked, but did receive assistance
from several people on the plane. Now "Old Racist McFucker" was
suspended at 1st, then quickly terminated from his job. Dude was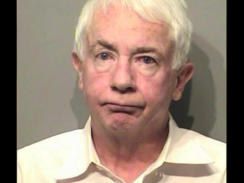 (the face of hate)
an abusive asshole, but adding the racism to it all was extra evil
Now what do all bigots, racists, & assholes do when busted with
their hate? LIE, LIE, LIE, & LIE some more. No apology, and now
he's even pleading not guilty. He's knows there are witnesses, &
people all around who heard it, & saw it. But it doesn't matter to
soulless ignorant hateful turds like him. How racist is someone
who thinks they're fucking entitled to slap a "mixed race" child?
(the little boy struck)
Massively racist. He was also "pretty drunk" according to others
He's lucky for one thing. If I was on that flight when it happened
the man would now be living with 2 straws. One to drink through
& one to control his fucking wheel chair. You know he voted Mitt
Have a day!