Day two is down the drain for the ass kicking donkey's. It was buttons, &
big ass crazy outfits that make a gay pride parade look right at home now
Sandra Fluke spoke. It's was the Vaginalogues throwing out all the vagina
(Um, hands off)
meat women could handle. Yes, I just coined the phrase "Vagina Meat", &
like McDonald's, "I'm loving it". The DNC is going for the vagina vote hard
They want to deeply penetrate it, again & again, then unleash their big hot
load of policy all over it. It's about practicing safe policy here, so no babies
Fluke called all the GOP positions "an offensive, obsolete relic of our past"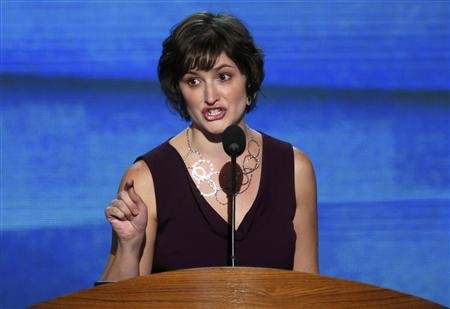 (lay off my choo-choo)
She asked will you pick "a country that honors our foremothers by moving
forward, or one that forces our generation to refight battles already won?"
After which the Republican party responded "shut your slutty baby button"
No, I kid, I joke. *looks at the RNC policy against women*. Oh, so I don't
Then came the big headliner. It was time to "get down with the slickness"
("Call me maybe")
After shedding "63lbs Of Adultery Weight", the 2012 Willie was very slick
Bill Clinton did his best pitch for Obama's second term. It was just the big
pitch/nudge that some sacred southern white voters on the fence needed
But face it, guy talks more than a coked up talk radio host. He's the LOTR
movie trilogy of political speakers. For every 15 minutes, he gets 30 more
But he made the case for voters pretty clear. He laid it out in policy facts:
"Unfortunately, the faction that now dominates the Republican Party doesn't
see it that way. They think government is always the enemy, they're always
right, & compromise is weakness……….In Tampa, the Republican argument
against the president's re-election was actually pretty simple pretty snappy:
we left him a total mess, he hasn't cleaned it up fast enough, so fire him and
put us back in. Now, we know that he also tried to work with congressional
Republicans on health care, debt, and new jobs; that didn't work out so well"
He said that "tax cuts, and deregulation" is the ONLY policy the GOP has
(Thanks Bill)
If all you fuckers start legislating like you speak, boomo, you're in. If you
don't. Boomo, you're gone. It's damn simple shit right there to figure out
If corporations are "people", I'm gonna kick that "them" right in the nuts
The event for tonight had to be moved indoors to a smaller venue. It has
sent Republican's AKA FOX news into advanced crotch spasms as to why
(Stupid radar facts)
The reason is rainy lightening weather, but no, it couldn't be that easy. It's
because they couldn't fill the building, right FOX? Yeah, that's it. It would
not be the 75,000 people standing out in heavy rain & lightening…holding
sticks of metal, putting people in serious danger. Nawwwww, that is crazy
Charles Krauthammer: "Ah, it wasn't the weather, they knew what the
weather was going to be months ago, this is clearly a response to the
fear of a sea of empty seats………..that's why this thing is being done"
Forget the facts, that it's to protect people, forget that he doesn't even really
("That's the ticket")
understand how weather works, & forget it was a sold out event of 65,000
plus about 21,000 delegates. I'm no math expert but 86,000 is over 77,000
Really just forget douchey partisan hack assclown lying pricks just  like him
Tonight's the night. Obama will make his case to all seven undecided voters
He better make a great policy speech, and create a tone of working together
Have a day!