He wants to lay us down and make sweet angry Texas love to us
("Just you & me baby!")
This comes after two years ago when he hated us, & tried to dump us
You remember, when he wanted to "Secede from the US"?
(Rick Perry's USA)
I guess he has a Brokeback Mountain relationship with us
He just can't quit us, but at the same time can't accept he's gay
And if he finally does, he'll have to pray the gay out of himself
It's also funny he thinks Ben Bernanke printing more $ is "treasonous"
(You go now, no USA for you!)
The guy is a few clowns short of a full circus, & heavy on the "cowboy"
I imagine a campaign ad of his like this coming soon:
*Cue sunset across a Texas ranch, as it pans to Rick*
(He has a big hat, belt buckle, & his foot on a bail of hay
with a big piece of straw coming out of his mouth
He is slowly polishing his gun while wincing at the sunrise)
(Vote for me, or I shoot ya)
VO: Some men rise at dawn, while others sleep all day
But Rick Perry never sleeps, EVER! That's Rick Perry
He stays up protecting his ranch, & polishing his gun
And he wants to do that everyday for lady America
By being our next President…instead of that filthy Kenyan ni##er
Rick Perry: I'm rick Perry, and I approve this message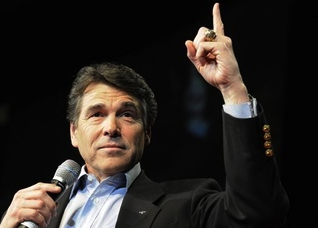 (He also approves this)
The guy is nuttier than squirrel shit, but that's America baby
Apple Needs To Come Out…
With the ijob. Think about it…
People might buy it if they actually had $
(It'd work, if you could)
Either that or the ihandjob
But then Apple will be cutting in on the worlds oldest profession
Meh, never stopped em before
Michelle Bachmann Wishes Elvis "Happy Birthday"
On the anniversary of his death…
(Oh jeeeez)
This women is dumber than a sack of wet hammers
She makes more obvious mistakes than a blind carpenter
It's not the mistakes, but the "I didn't make one, your ears heard it wrong"
(No mistakes here)
Silly hubris follow up that always makes it five times as bad
But, she's one snappy dresser, so she must be a Republican
Have a day!