Thanks Iowa, it's time for the straw poll…filled with straw men
(Not that kind!)
When you have a weak crop of Republican candidates to choose from
You get really cheap stupid soundbites from grossly unqualified people
Shit, the entire thing looked like the set of Jepordary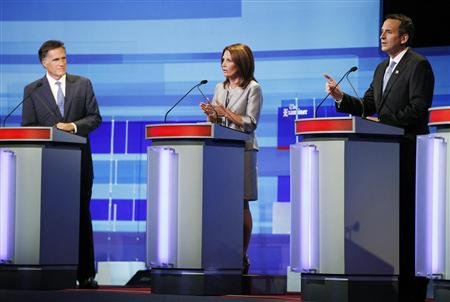 (We don't know things)
Without the intelligence. Let me sum up the debates for you in one quick exchange:
Person 1: "You suck!"
Person 2: "No kind sir, you suck more than me"
Person 1: "No, but I said you do first"
("Thanks for coming mom!")
Rinse, wash, & repeat
Actually, you ALL suck wind, and it's disgusting you're playing this game
And who decided to just show up for good measure? Our lil' attention whore
(Stupid media!)
Every toilet needs a turd, every circle needs a jerk
I'll say this, if she runs, the next year will write itself
But it seems she can't decide that because her synapses won't fire
Lucile Ball Would Of Been 100 Today
Think about that. One of the most talented & influential women in comedy
Then I want you to remember she's dead
(Being dead really sucks)
But if you're reading this, & I'm assuming you are, you're not dead
So go do something about it today like ride a bike, sing a song, or fart
I'd Like To Take "Reality TV" To A…
Known sexual predator park, and leave it there
(It's another option)
Just sayin'…
Have a day!