Wait, sorry, my bad, I totally read that wrong…
It's actually the "Gang of six" who are now working on the debt ceiling
(Saxby & Biden separated at birth?)
But who are they?
*Drum roll, then loud booming voice over a stadium PA system*
For the Democrats you got Dick Durbin, Kent Conrad, & Mark Warner
For the Republicans you have Saxby Chambliss, Mike Crapo, & Tom Coburn
Wait, didn't Coburn already HAVE a plan I posted here? Oh, he did
(Try MY ice cream)
But since it clearly sucked donkey balls
He'll now join forces with the "Meh Squad" to try & finish this off
They want to bring down our debt by 3.7 trillion
They will do reforms to SS, Medicare, and defense spending cuts
They're also going to eliminate loopholes and write-offs in the tax code
They didn't say which, so corporations'll just pick the one's that are still open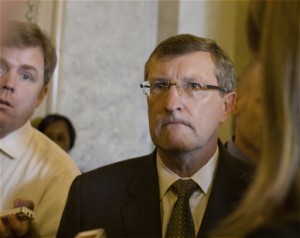 (Just push back the date)
Also, no mention of the Tax Cuts ending for the top 3-5%. Disgusting
Obama's playing a dangerous game here with his progressive base
Hell, the fact he "playing political games" with basic positions is silly
A progressive wouldn't keep Gitmo open, keep the Patriot Act NSA tapping in place, dangle Social Security as bait, not support same sex marriage, or extend Bush Tax Cuts. They wouldn't be in the banks hip pocket. Maybe that's because Obama isn't really a progressive. 2012 looks very bad for him unless he helps progressives
Not So "Happy Days"
Turns out the Happy Days cast was getting merchandised without pay
(Thursday, Friday Happy Days)
You know, board games, lunch boxes, t-shirts, & even gambling machines
They brought a law suit for their fair share. Seems reasonable to me
The only two from the cast not mentioned were Ron Howard, and Henry Winkler
CBS said they sent out "final payment checks", but only the amount of $6,500
The suit claims merchandising is worth over 10 million
Must be for all the Al Delvecchio stuff
("I makea the burger")
"Yep, yep, yep, yep, yep"
Today's Weather Forecast For The United States
Welcome to the face of the sun
(Ouch!)
You will now be drinking "lava" to cool off
It's so hot out, that when I turn a little to my left I see…
Three Jewish guys in towels reading the sports section pouring water on the coals
TOMORROW: Shirley Sherrod suit moves forward against Asshole Breitbart
Have a day!