Iran's President Mahmoud Ahmadinejad has some harsh words for Obama…
(Lil' asshole)
Obama said he was "appalled and outraged" by a post-election crackdown and Washington withdrew invitations to Iranian diplomats to attend Independence Day celebrations on July 4, stalling efforts to improve ties with Tehran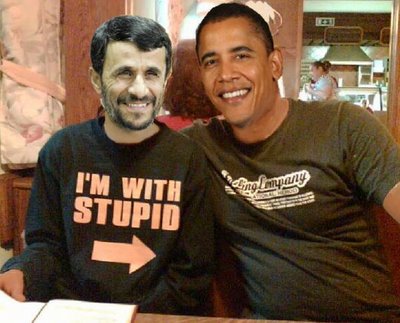 (They looks so happy)
"Mr Obama made a mistake to say those things…our question is why he fell into this trap and said things that previously Bush used to say". WTF? Really?
Obama's just like Bush now to the little fella?
I don't see it. Bush couldn't put together a complete sentence. He'd of said something like "Heh, what's up with the killing of people and such? Not cool…"
(I know stuff, sort of)
He'd of went on to say, "We'll be dressing a Justice Squadron in tights to fly over there and beat some serious ass unless you stop the retarded shit shorty"…
Lil' spit fire homo hater even went on to bark at Obama, "Do you want to speak with this tone? If that is your stance then what is left to talk about?"
(Gladly missed this one)
Well, you murdering your citizens for starters captain taint hat…
But who's to say? Remember, you can't spell dictator without the "dick"…
Cheating Evita Style
Don't cry for me Argentina. Cry IN Argentina, while stchuping someone other than your wife. Turns out Sanford was cheating on his wife with another woman. Damn, it wasn't a guy like I thought, but I did say, another woman was the "at best"…
(Contact troubles?)
Kind of hard to hold that moral high ground on family values when you're humpy humping in Buenos Aires on the side ace. He spent the last five days "crying in Argentina"…in between all the fucking and the such…
(On tests?)
I don't care about his indiscretions. It shitty for his wife & kids, that sucks. We're all flawed and make huge mistakes, but the issue is in his own party asking for perfection. It's not rational. He accepted terms no one can ever really meet…
It takes balls to travel to Argentina to have an illicit affair in this economy. Sorry, but the best you're getting from me is the local Red Roof Inn…
(Nice rape lighting)

And bring a roll of quarters for the magic fingers bed…
Have a day!