Needs erectile medication…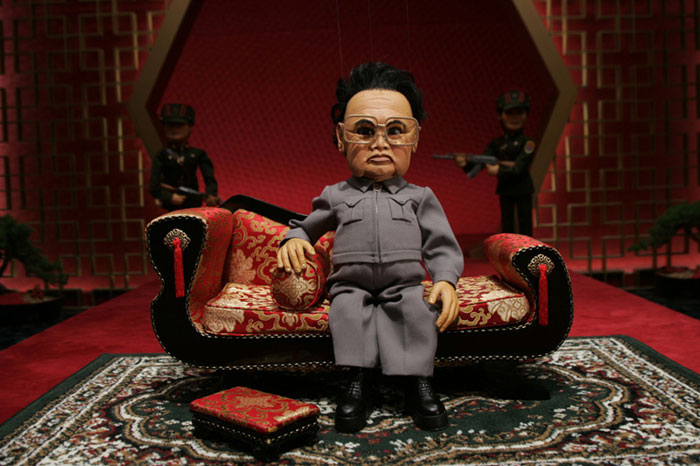 (I rike pirrow frights)
Since he wants to "show the strength of his missiles"…
The only thing worse than a creepy little dictator with Napoleon complex is anyone from The Hills who "thinks" they have a shred of talent…
North Korea warns of Nuclear war amid rising tensions and the eve of a US visit…
(You're on notice lil man)
They also vowed Saturday to "weaponize" all its plutonium and acknowledged a long-suspected uranium enrichment program for the first time. Both plutonium and uranium are key ingredients of atomic bombs...that and a dash of "holy shit"
Um, if you already weaponized it, you don't tell people. He's clearly short on the $, no uranium. There's not the money in dictatorships that there used to be…
(Iz so smrt)
He sounds like the little boy who cried "Nuclear". Is it an immenant threat? No. Should we be locked in on their every move like a lazer beam knowing everything they're doing at every moment nott allowing them uranium? Yep…
Vice President Biden said, "God only knows what he wants". I got news Joe, it's not a 30 sack from the White Castle drive thru. Joe Joe Dancer went on to say, "There's all kinds of discussions. Whether this is about succession, wanting his son to succeed him. Whether or not he's looking for respect. Whether or not he really wants a nuclear capability to threaten the region. We can't guess his motives."…
No you can't. But you best have a fucking list with every possibility on it, and specific correct reactions for each situation. That's what's keeps you in hair plugs bud. North Korea is already believed to have enough plutonium for at least half a dozen atomic bombs. The key is uranium(yellow cake) and keeping it out of their hands…
(So ronery)
Why's Kim Jong Il doing this? Small penis? Need's the $? Lonely? Likes war? Someone called him "short" on the playground when he was a kid?
I'd have to guess yes on all of em; along with being a shitty dresser…
The lay-tee's don't dig gray…
Lakers Win…
And no one except LA fans or Kobe remotely give two shits…
(A net eating contest?)
With the economy sucking, people struggling to make rent, and scrimping at every turn, screw these guys. With most Americans driving less, using less AC in the summer, and forced to try "staycations" instead of vacations, screw these guys…
It's not like people were sitting around screaming, "Oh god Kobe, you only have three championships, WHY don't you have a 4th shinny trophy? Life's so unfair to you. You must get one more to complete me…"
What do fans in LA do when they win? Riot! Destroy cars, flip em, then loot…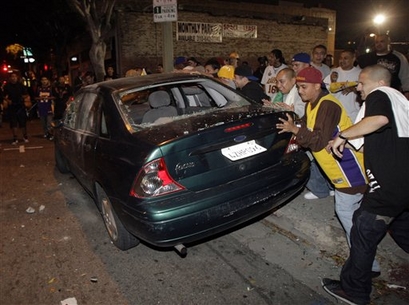 (Yeah we won, get that car)
They make Detroit look classy by comparison…
(Lakers win! Free shoes?)
Kobe is one amazing athlete. He's no Michael Jordon. You only get one of those. Kobe's great, but Jordan is the G.O.A.T. Grab a seat in back son…
For the normal people of LA, glad your team won…
Sorry the huge douchebags get all the coverage…
Have a day!