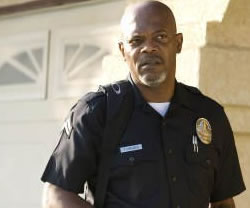 (He looks racially motivated)
You're mother-in-law is dying in the hospital. You only have moments. You're in your SUV, slap on the hazards, look both ways making sure no traffic is coming even being waved through by the only other motorist on the road. You pull into the emergency room parking lot…
What happens next?
A cop gets out, gun drawn, & barks "let me see your hands!"…
That's when you say, "My mom is dying"…
That's when the cop doesn't remotely give a shit. Here's the story…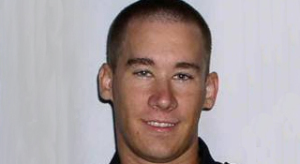 (Bigot boy!)
I guess disco dickhat fell asleep in the part of Spider Man where Uncle Ben says, "With great power comes great responsibility". He was probably searching for a Ju-Ju Bee, cause he doesn't likea black jelly beans…
There's no doubt this was about racial power. I rarely touch on these things, but when you take into account, after he knew there was no threat, after he knew the whole situation, and after the nurse and other cop had come out explaining and pleading, he still made a man wait 13 minutes, and placed him in the back of his squad car as he lectured and belittled him…
Mom died while he was detained…
That's beyond evil. That's beyond hate. It's fucking sick. I just puked in my mouth…
The worst part, after watching the tape, officer assclown still thinks, "he didn't act inappropriately". THAT'S what sealed the deal for me…
It's David Duke Jr. with a badge…
(W.C Fields on the right)
Here are others who think officer Robert Powell is the biggest asshole on the planet:
-OJ Simpson, the Grinch, Monty Burns, Satan, Dick Cheney, and Denis Richards
I even heard Denzel Washington's character Alonzo from Training Day was shaking his head saying, "Damn dude, you one cold mutha fucker bro"…
(Yay, mean cops)
He's young, maybe someday he can run for "White Power" office…
Have a day!