In shocking news, Bristol Palin and her fiancé Levi Johnston have broken up…
Oh wait, did I say shocking? I meant "Totally Freaking Expected"…
(Ever see a drowning man?)
Levi is still a devoted and proud father who will see his son; in between hockey games, PS3 Call Of Duty World At War, drinking with buddies, and trying to find other girls to slide his puck into…
In other words, he's 19!
Bristol Palin said in a statement she was devastated about Star magazine's Web site that quoted Levi's sister, Mercede, as saying Bristol "makes it nearly impossible" to visit the teenagers' infant son, Tripp. The baby was born Dec. 27…
Wait a second. Levi has a sister named Mercede? Do the parents of these people just pick products where they were conceived? I'd hate to met their others sisters Filene's Basement Changing Room and Porta-Potty…
(She gots to go)
Said a source close to the couple about the break-up, "It kind of just happened"…
Which oddly was how the baby came about in 1st place…
You Lost That Hip-Hop Feeling

He jumped off the stage during a short performance early Thursday morning in Miami and confronted an audience member who was heckling him…
It's unknown whether the confrontation was real or a bit, but actor Casey Affleck recorded the performance on camera…
(Me shoot Amish brother)
I'm convinced it's not a bit. We're watching live, real, sad, art happen…
In our ultra fast, super connected, YouTube world everyone thinks "Punked" or "bit" first. Perhaps Casey is playing a joke on all of us by saying, "This man was honestly trying to start a hip hop career, did drugs, and no one believed him? I think that says more about YOU than him".
If that's the case, you're right Casey, and I applaud you. Then again, perhaps I'm giving Casey more credit than is due. After all that Jesse James pile of shit movie you did gives me a serious judgment pause…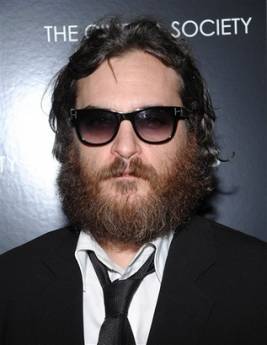 (Sir, you have a cat on your face)
If not, you get an F- for a really self indulgent shitty bit. The only truth that can come of this is by correctly holding up a mirror to society…
There was only one Andy Kaufmann…
Besides, your brother looks like fucking cross between Cat "Yusuf Islam" Stevens, Leo Tolstoy, and fat Peter Jackson…
(I claim this for Middle Earth!)
I hope he keeps it and goes gray, he'll be Uncle Jesse from The Duke Of Hazzard…
(Moonshine!)
Have a day!