Billy Ray: [as "Nenge Mboko," an exchange student from Cameroon] Merry New Year!
Beeks: That's "happy." In this country we say "Happy New Year."
Billy Ray: Oh, ho, ho, thank you for correcting my English which stinks!
(Shit, Lionel Joseph is white!)
"Please to help me with my rucksack?". Sorry, I'm a sucker for movies that have New Years Eve in them and gorillas. But then again, who isn't?
If 09 starts out sucking economically, I blame Clarence Beeks…
(Also the principal in Breakfast Club)
New Years Resolutions
Here's a list of some NYR's:
-Old people vow to "get younger by watching the movie Cocoon"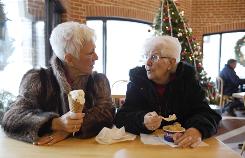 (She puts scotch in her ice cream)
-Lion fans decide to follow the Minnesota Vikings
-Promise that next year it's a "fake" Christmas tree for sure
-Only seven drug trafficking related arrests this year
-Challenge your boss to a duel using either swords or pistols
New Choose Your Own Adventure For 09
Drum roll…
(Medicine cabinet drugs are best)
Bang! Now go have an 08 today…