Wonder Woman's "invisible jet" was hardly invisible…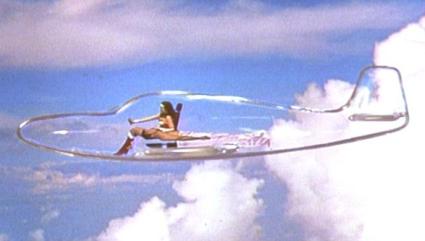 (Hand blown glass)
It's looked like a freaking glass bubble. One shot from an errant bb and it's shattered…
The cockpit wasn't invisible either. A red velvet seat? Who's her co-pilot, Liberace?
(In-flight movie was The Hulk)
Since she had bullet proof bracelets, why didn't villains just shoot at her feet?
The Mystery Of Starbuck's Torture Room
Nancy Drew was placed on the case of the "Starbuck's Torture Room"…
(Barista Doug was on the rack)
She discovered reasonably priced scones, a French vanilla blend, and a 12th century torture room complete with iron madden, stretching rack, and Jonas Brothers CD's…
Go have a day!