I'd like to properly introduce you to 2 feet 5.37 inches tall Ping Ping who is the shortest man, and the leggiest woman at 52 inches long, Svetlana Pankratova. Ping Ping, Svetlana…here's everyone…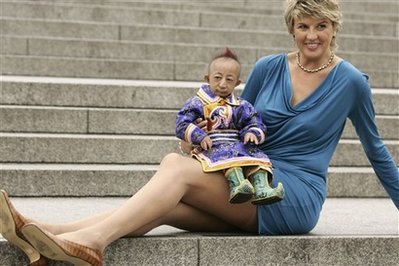 (Ping Ping tells Svetlana what he wants for X-mas)
They were in Trafalgar Square to promote the release of the 2009 "Guinness Book of World Records. But that's not why I told you about them. It was Guinness officials who said, "We don't want to make the book a freakshow"…
Really? Then what the fuck have a I been reading the last 30 years?

A Six Million Dollar Man remake?
If they do, it'll be titled the 83.7 Billion Dollar Man due too inflation….
(Bad time to have Nam flashbacks Steve)
Besides, it doesn't exactly roll off the tongue, unless you add the funky cool "da-na-na-na-na-na" sound effect…then anything works. Try it!
Todays post was brought to you by the good people from 80's pop band DeBarge…
(Wha-oh! They accidentally spilled paint on the walls)
They always told kids to "Say No To Drugs!"…
Yet one quick look at their outfits says they clearly didn't…so booger sugar all around!