Happy Halloween to all!!! And in
real world "scary" news, a maga
(No more!)
terrorist, Just Broke into Nancy
Pelosi's 'House', and "Beat" Her
husband with a hammer. WTF?
He's in Critical Condition in the
ICU as I Type. It is Terrorism &
'Attempted Murder'. And, All Of
GQP/Maga Republicans, Do Not
only Not remain silent, they All
decide to Mock, make up lies &
"spew" MORE HATE. Enough, It
Has To Stop, Right Fucking now
(Enough!)
no 'more'. Vote These Inhuman
racist Fascist scum outta Office
In 8 DAYS America Will do just
That. Assassination "Plots", are
not acceptable. Can ya Believe
I Have to Type this? Throw him
UNDER The jail. Oh, 'Speaking'
of Racist Fascist Losers "Losing"
Say Goodbye Forever to Brazil's
Rump Jr. Bolsonaro. He is done
The entire globe isn't putting up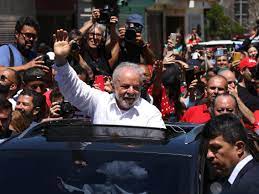 ("I'm back!")
with this Violent racist hate Any
more. Times Up. Vote them out!
NOTE: 'Maga Monster' Kari Lake 'Mocks' Paul Pelosi's
Murderous Attack. THIS is who They are. Vote, vote!
Have A Halloween!