It seems these days, all GQP'ers
have no Legal, Political or actual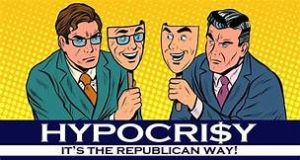 (All they got)
"Defense" to Their "criming" or
political decisions (Dobbs). The
house of cards is toppling quick
See, when you Don't HAVE any
Defense at All, That's The Issue
Jones, has No Defense. Walker,
has no defense. Bannon has no
Defense. None of them do, and
("Guilty AF!")
there is No Escape from All the
Consequences coming. And the
Former Orange Anus, is In The
Deepest Shit of all. Trying a fat
losing SCOTUS Stunt is Gonna
blow up in his face. The reason
Asshole's so panicked, It's very
likely someone explained to 'It'
(Comin' soon)
the dire legal Shit he's really in
He's knows he/others are done
NOTE: DOJ "Wins Ruling, Against Partisan Judge"
Cannon's Lunatic Ruling Solely intended to Delay
11th Circuit isn't having it. Appeal will expedite it
Have A Day!