What if I told you, a group of white
Nazi, Domestic Terrorists, in a tiny
(<-Terrorists)
U-Haul Were "Busted" before they
could commit Their Terrorist Acts?
Imagine, the Most Pathetic, Dumb
'Event' Of White Supremacist idiot
terrorists stacked in a Uhaul being
pulled out & Zip Tied. Ha ha ha ha
This's a DIRE issue in our nation &
It requires Limitless Vigilance. See
I told Ya All About long before this
shit. And Justice is winning. Oh, &
(<-Same Terrorists)
speaking of Justice, more "Dirt" is
droppin against TFG in primetime
AGAIN. Busted It, is, "devastating"
Rudy's 'drunk', the Entire Room is
now Yelling, "You're Nuts!". Boom
TFG will be indicted, this is a legal
layup and most everyone in TFG's
Orbit/his direct pals are also Goin'
down Harder Than a Drunk fat kid
on Ice Skates. There Is no Political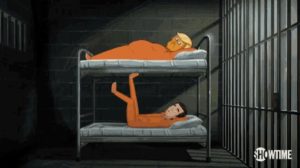 (Book it!)
recovery from this. Shit, there's no
'LEGAL Escape' here either. Ha Ha!
NOTE: The "Current Framework" Of Gun Legislation Right
Now Isn't even CLOSE to doin' what's needed and this's a
hard NO at this point. Republican's once again offer nothin
RIP: Superstar Actor, & Funnyman Phil Baker Hall has Just
passed Away. Ya know him from Seinfeld & Boogie Nights
Have A Day!