The White House Correspondents
Dinner was not only funny, it was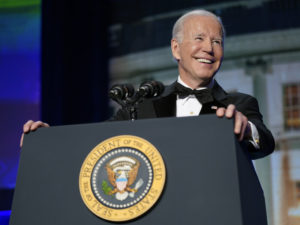 ("Listen Jack!")
rather powerful. Trevor Noah did
what great comedians always do
Made ya Laugh AND Think About
the importance of the Free Press
The Responsibility's Real & I also
Take It Seriously. Fascism Is Evil
stuff. Stay Vigilant my Good pals
Speaking of Idiots, TFG Does not
even remember who he endorsed
(FFS!)
anymore. Which makes sense for
a whole # of Reasons since They
are all likely to Lose Badly in this
Mid-term Election season. Ooops
Syphilis effects the Brain, & With
out one to Begin With, things get
way Worse from There. Ha, Zing!
And a judge ruled the subponea's
for The 'Internal RNC Data' about
(Yup!)
Jan 6th are legally Valid. Which is
now "Oh Boy, they Are SO busted"
NOTE: TFG Wanted To "Shoot Protestors" In 2020
They Are, Criminal Immoral Un-American Bastards
RIP: Naomi Judd Has sadly Passed away. She Was
a country legend & all around talented singer/voice
Have A Day!